C3 MICRO-CLOUD: IMPROVING EDUCATION EVERYWHERE
Access to internet and digital technology helps students to succeed in education, in their future jobs and in their lives. The  C3 Micro-Cloud creates a true e-learning environment regardless of internet connectivity or infrastructure.
The C3 Micro-Cloud offers a range of powerful capabilities making it easy for students, teachers, and administrators to curate, publish, manage, and consume content. All delivered in a framework that is both powerful, flexible, and customizable.
END-TO-END SOLUTION ARCHITECTURE
The  C3 Micro-Cloud provides a local Wi-Fi access point, so that students and teachers can connect directly with the micro-cloud device and access all applications, services and content directly, even if 'upstream' network services are not available.
Content, in the form of texts and other resources, can be centrally curated in the C3 Cloud Control, and distributed to any authorized  C3 Micro-Cloud, whenever a network link is available. In addition, added value resources such as those from approved HTTP and HTTPS web sites can also be included in the local repository – again to be available even if the upstream network is down. Teachers can also load their own content locally, for use with their students – for a more customized learning experience.
Teachers can better prepare their students for the world, the workforce, or higher education and students get the chance to experience the world without leaving the classrooms!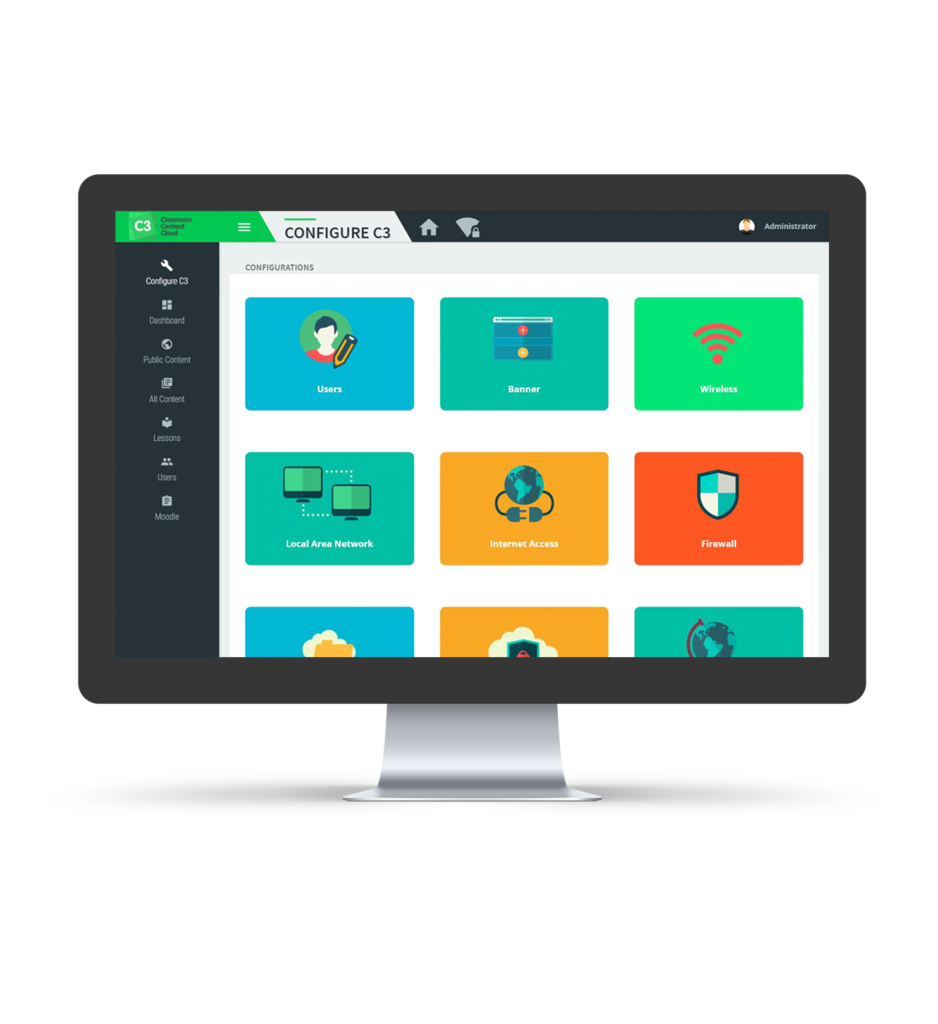 THE C3 MICRO-CLOUD IMPROVES EDUCATION FOR:
Students can access global education resources and rich learning content, such as videos, applications, podcast, and learning games, even if the school does not always have an upstream connection to the internet. They can also have access – by any student device, such as notebook, tablet or smartphone – to real-time feedback to track their performance. Learning with the with the C3 Micro-Cloud improves students' engagement in the learning process and better prepare them for the future.
With the C3 Micro-Cloud teachers are able to follow state-of-the-art teaching methods and leverage leading curriculum, by providing a wide range of learning materials and promoting flexibility and differentiation in the learning methods. They can easily plan lessons, saving time to deliver an education that works with each student's unique needs. The progress of the students can be testes real-time, and analysed to help them learn better.
The C3 Micro-Cloud allows administrators to curate and distribute approved content for the entire country or region from a single point, to be updated whenever a connection is possible. Imporve internet speed by caching HTTP and HTTPS pages and prioritizing access by user profile. It also ensures that students only navigate internet sites allowed by the school's safety policy.
C3 MICRO-CLOUD KEY FEATURES
Digital content repository (learning content and applications)
Manages remotely content and applications
Accelerates Internet speed with intelligent dynamic caching 
Digital security tools
Supports up to 50 concurrent users
Digital content repository (learning content and applications)
Manages remotely content and applications
Accelerates internet speed with intelligent dynamic caching 
Digital security tools
Supports up to 300 concurrent users

website: https://itmaster.africa/ 
email: sales@itmaster.com.za
Tel: +27 12 667 6878
THE C3 MICRO-CLOUD SOLUTION IS NOW IN USE IN OVER: